---For Immediate Release---March 6, 2011
"Claiming the Commons — Food for All on Haultain Boulevard" is now online atwww.peakmoment.tv, including an audio (Peak Moment Conversation 185).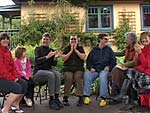 Rainey Hopewell's crazy idea has ended up feeding a neighborhood and creating community. She and Margot Johnston planted vegetables in the parking strip in front of their house. They offer them free for the taking — to anyone, anytime — with messages chalked on the sidewalk noting when particular vegies are ready to pick. Neighboring children and adults are joining in to work on the garden, harvesting fun along with food, and even handing fresh-picked vegies to passers-by.

Peak Moment: Locally Reliant Living for Challenging Times is an online television series with people creating resilient lives and communities for a more sustainable, lower-energyfuture. Peak Moment TV is cross-pollinating the most challenging shift in human history - an energy transition away from fossil fuels to sustainable living.

190 programs are online at www.peakmoment.tv/conversations, where DVDs can be ordered. They are cablecast on up to fifty community access TV stations nationwide. Peak Moment Television is produced by Robyn Mallgren and Janaia Donaldson, Yuba Gals Independent Media of Nevada City, California.
---
---
Peak Moment Television
15504 Lone Bobcat Way
Nevada City, California 95959
US