---For Immediate Release---March 14, 2011
"The Vegetarian Myth" is now online at www.peakmoment.tv including an audio (Peak Moment Conversation 191).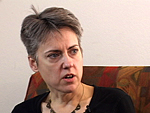 What we eat is destroying both our bodies and the planet, according to author Lierre Keith, a recovering twenty-year vegan. While she passionately opposes factory farming of animals, she maintains that humans require nutrient-dense animal foods for good health. A grain-based diet is the basis for degenerative diseases we take for granted (diabetes, cancer, heart disease) - diseases of civilization. Annual grain production is destroying topsoil and creating deserts on a planetary scale.  Lierre urges the restoration of perennial polycultures for longterm sustainability.

Peak Moment: Locally Reliant Living for Challenging Times is an online television series with people creating resilient lives and communities for a more sustainable, lower-energy future. Peak Moment TV is cross-pollinating the most challenging shift in human history - an energy transition away from fossil fuels to sustainable living.

191 programs are online at www.peakmoment.tv/conversations, where DVDs can be ordered. They are cablecast on up to fifty community access TV stations nationwide. Peak Moment Television is produced by Robyn Mallgren and Janaia Donaldson, Yuba Gals Independent Media of Nevada City, California.
---
If you no longer wish to receive these press releases, please reply to this message with "Unsubscribe" in the subject line or simply click on the following link: Unsubscribe
---
Peak Moment Television
15504 Lone Bobcat Way

Nevada City, California 95959
US